ARAOK
€24,000 - €28,000 / WEEK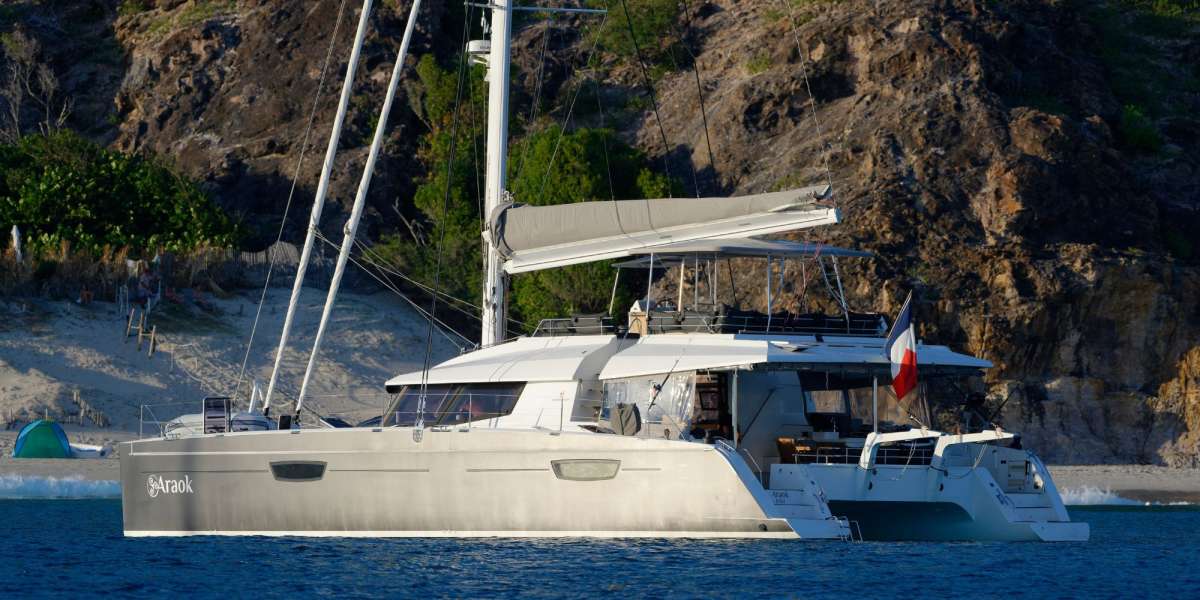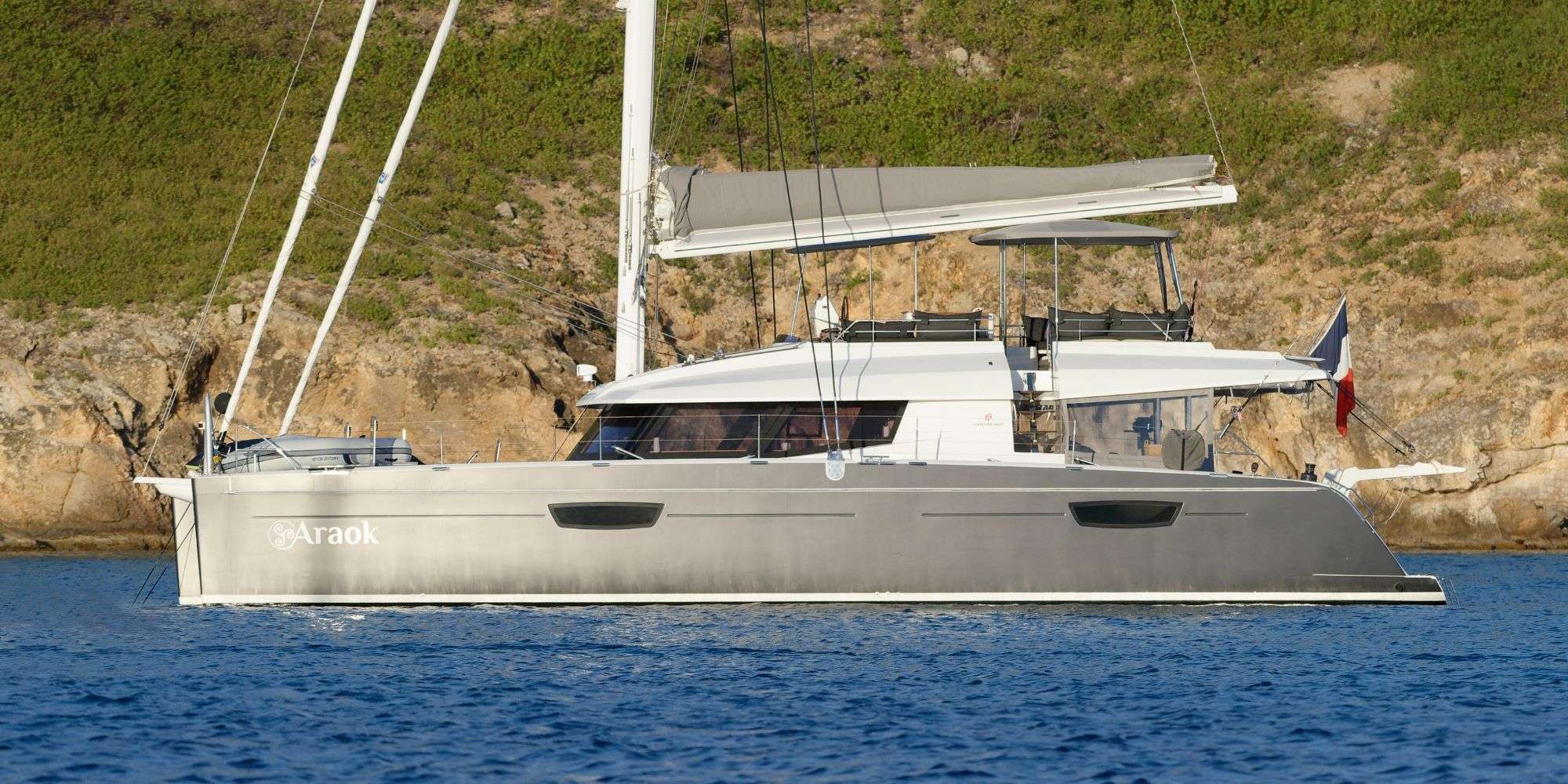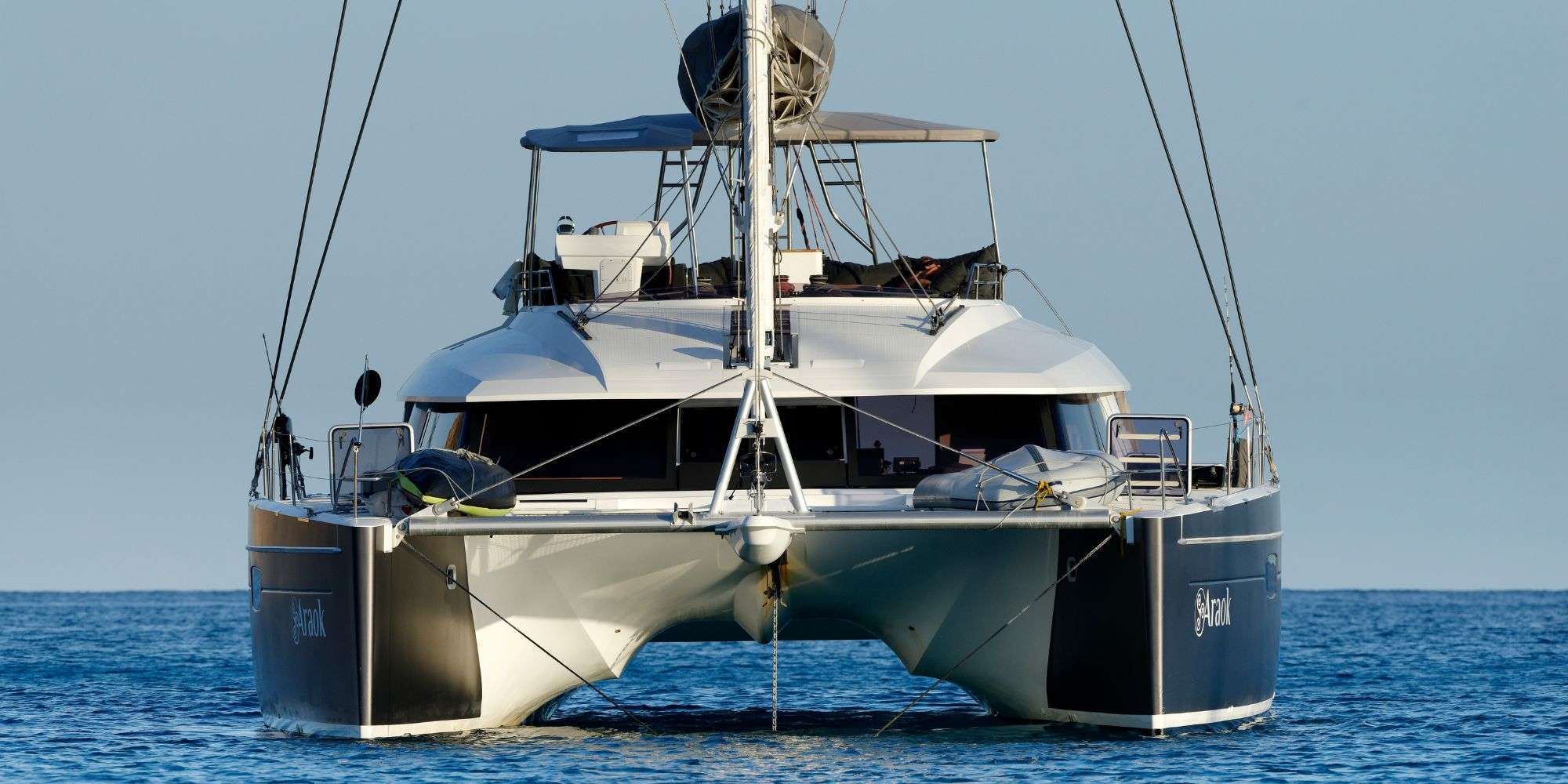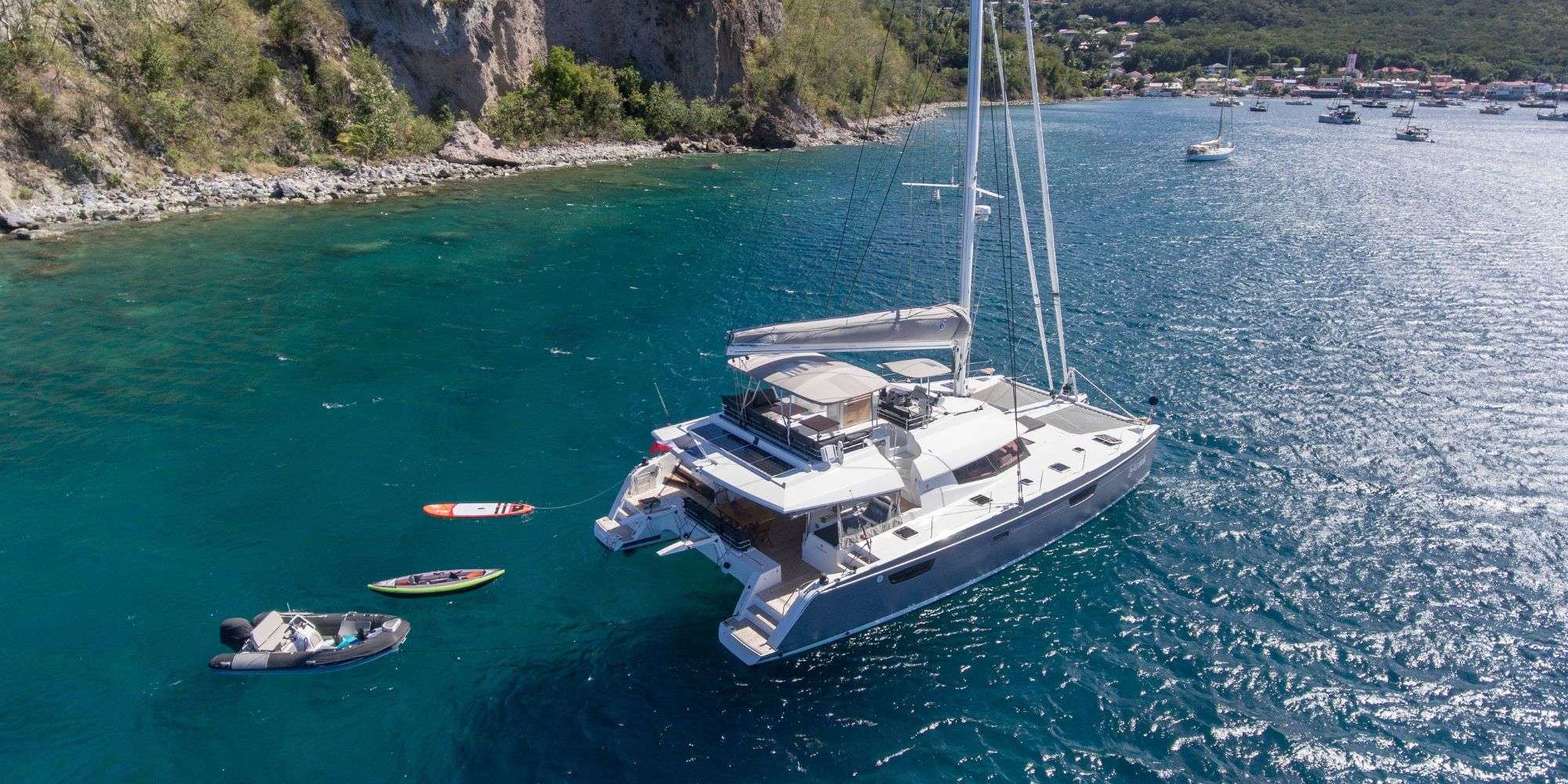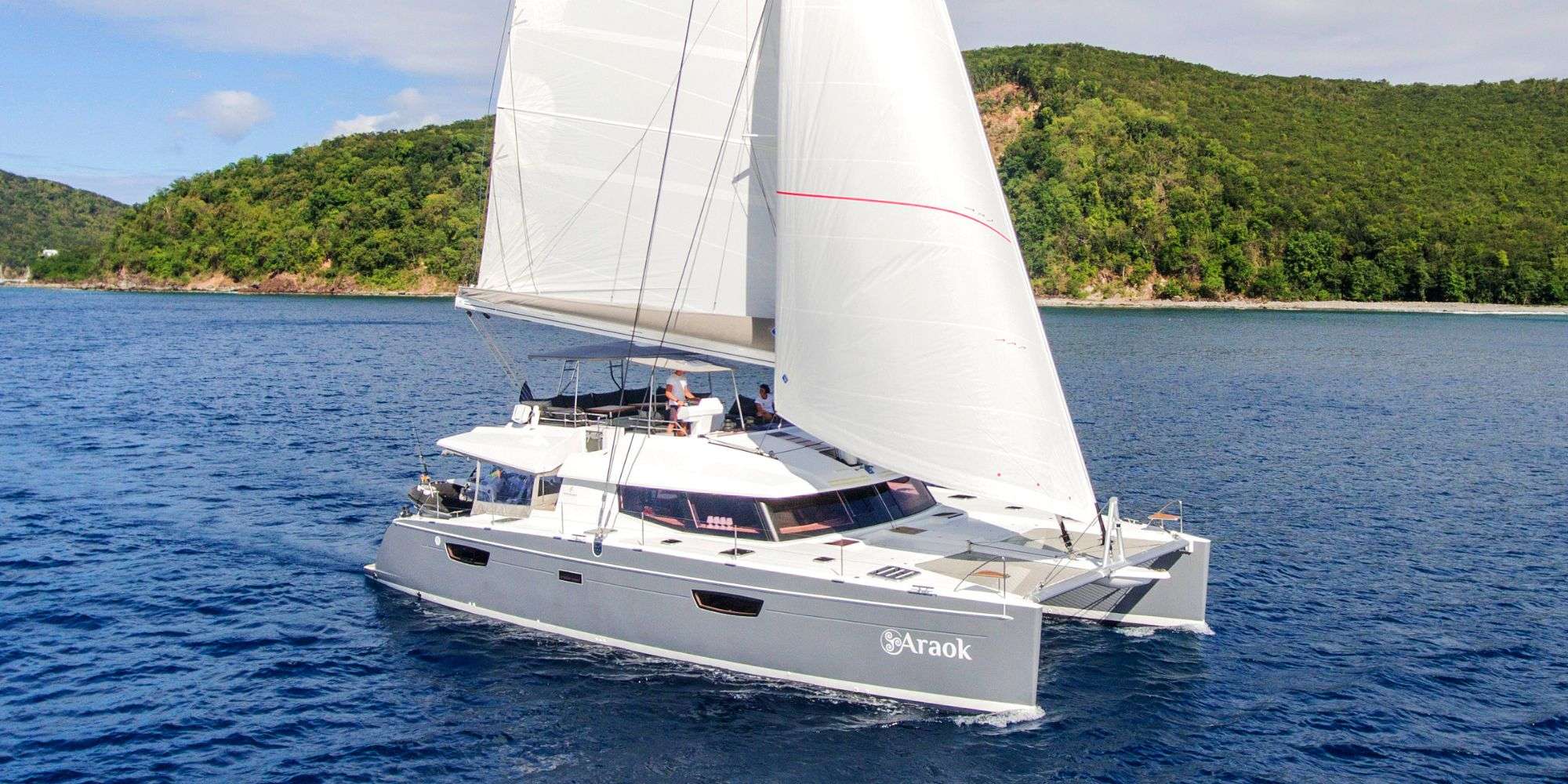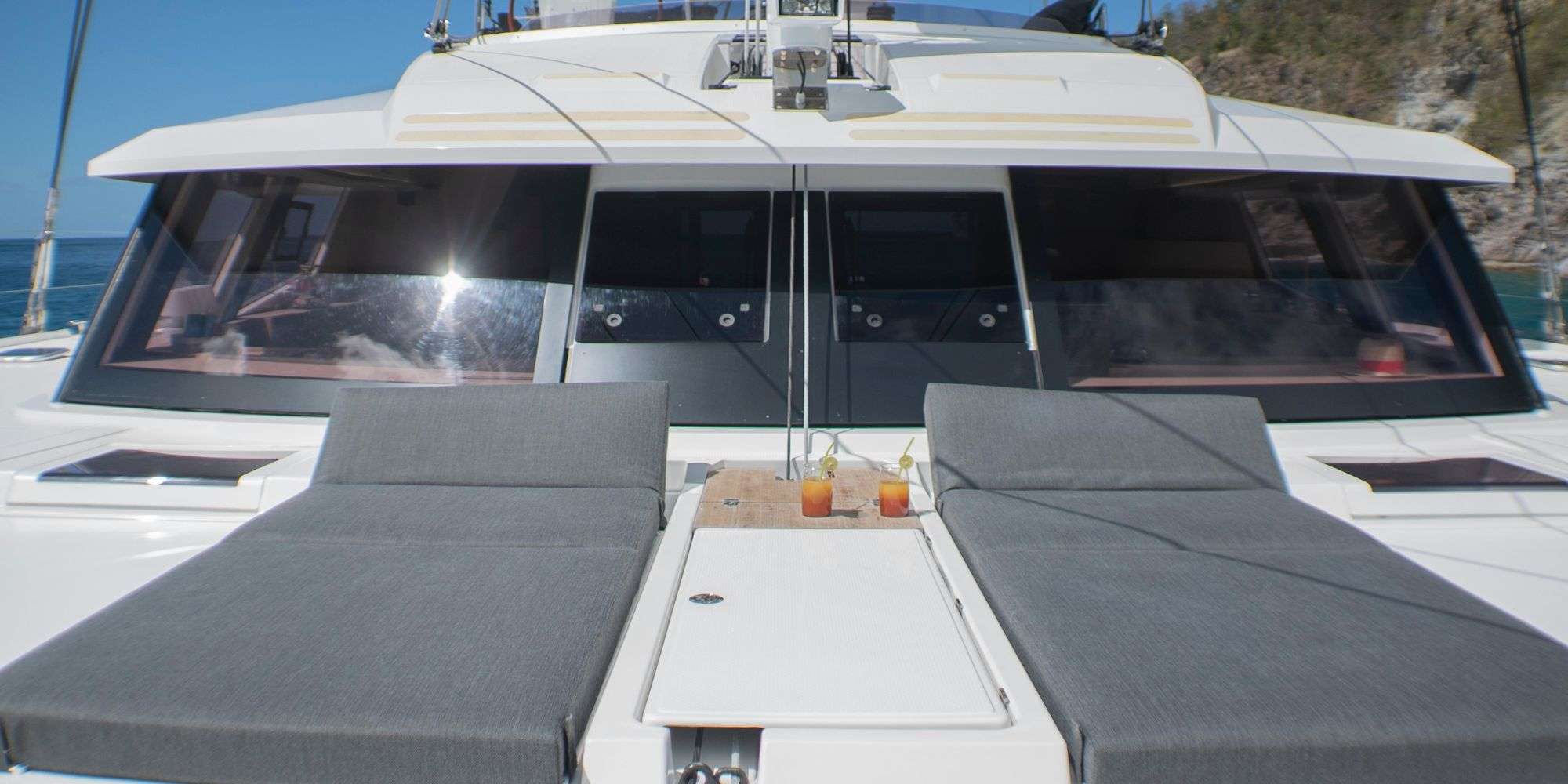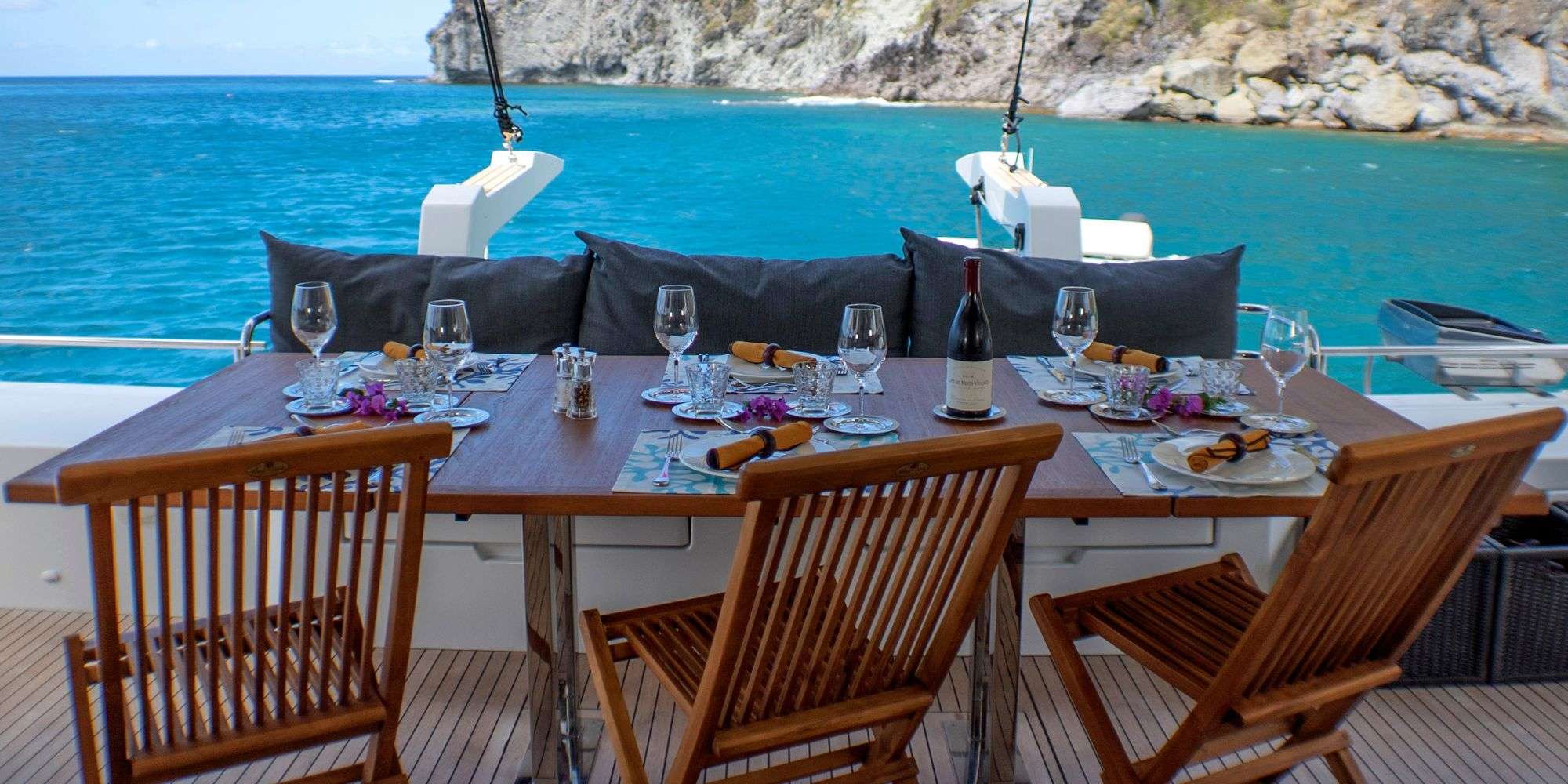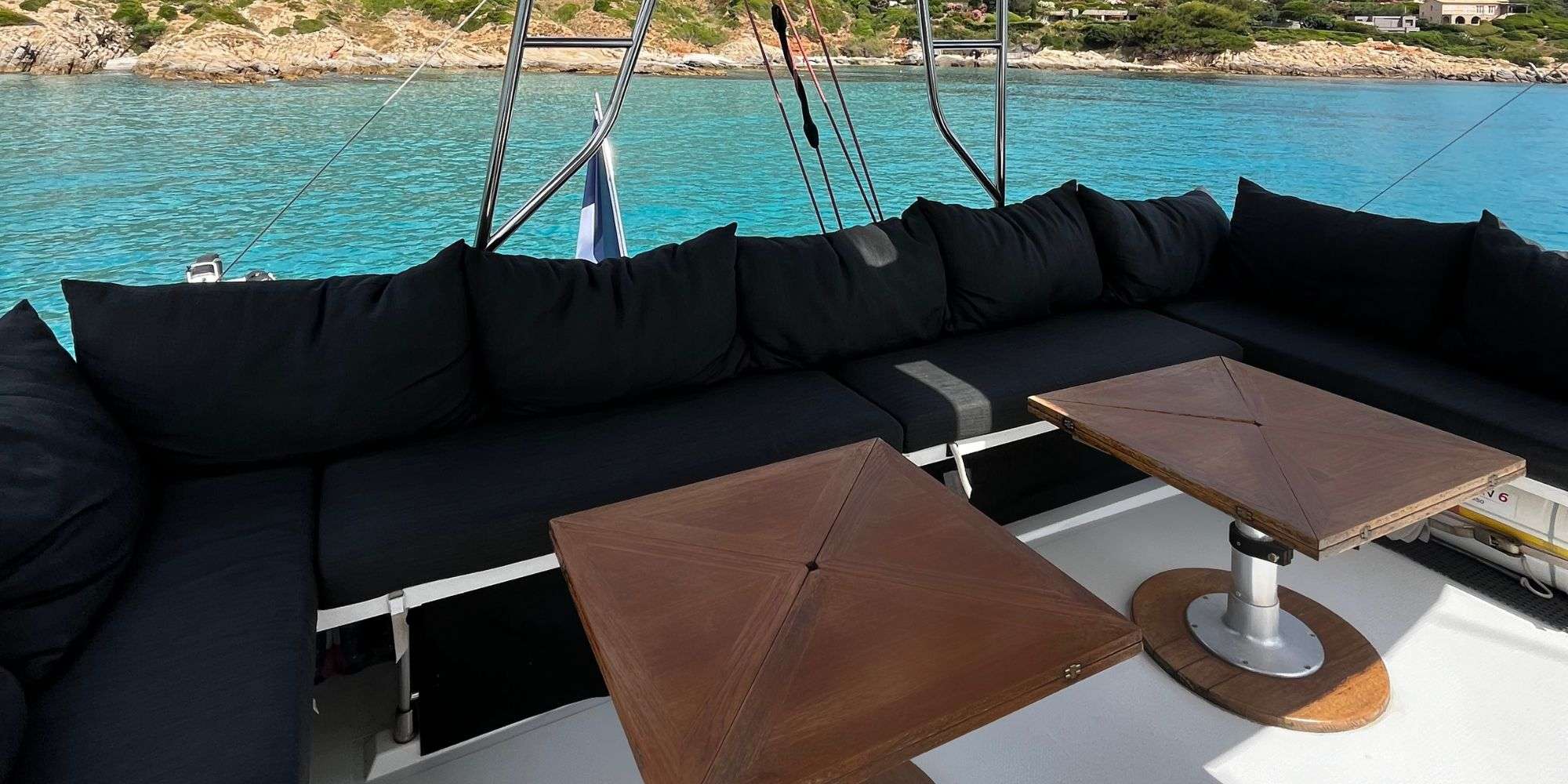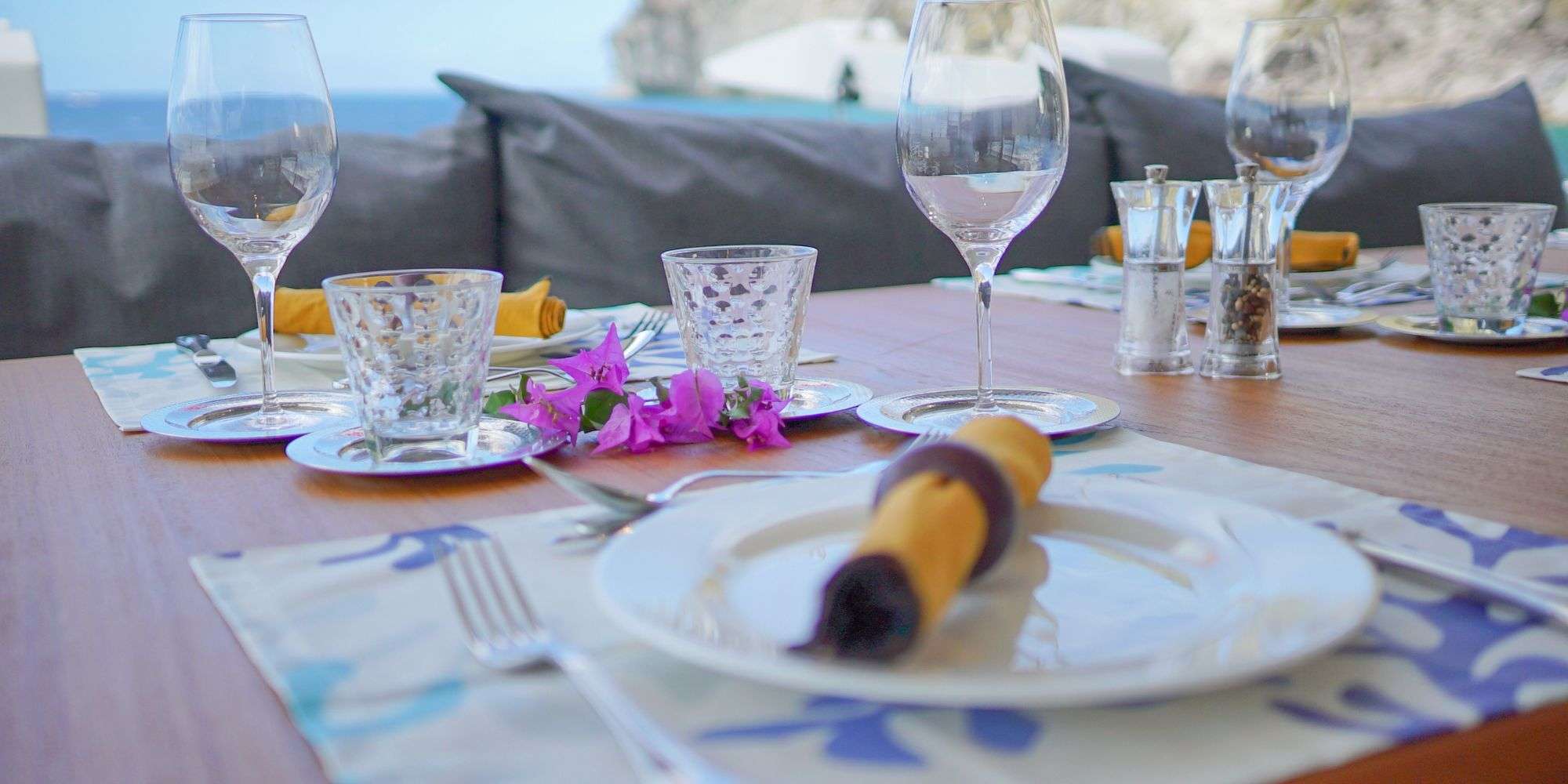 Accommodations
Cabins:
3
Queen:
2
Single Cabins:
1
Showers:
3
Electric Heads:
-
Engine Details
-
Fuel Consumption:
20
Cruising Speed:
8
Max Speed:
10US Gall/Hr
Details
Type:
Cat
Beam:
8.88 Metres
Draft:
1.4 Metres
Pax:
6
YearBuilt:
2018
Builder:
FOUNTAINE PAJOT
Flag:
French
SatTv:
Yes
Jacuzzi:
No
A/C:
Full
Locations
Winter Area:
W. Med -Riviera/Cors/Sard.
Summer Area:
W. Med -Naples/Sicily, W. Med -Riviera/Cors/Sard., W. Med - Spain/Balearics
Pick Up Locations
Pref. Pick-up:
-
Other Pick-up:
-
Amenities
Salon Tv/VCR:
Yes
Salon Stereo:
Yes
Sat Tv:
-
Camcorder:
-
Books:
-
Board Games:
-
Deck Shower:
-
Water Maker:
-
Special Diets:
Inq
Kosher:
Inq
BBQ:
-
Minimum Age:
-
Inverter:
-
Voltages:
-
Water Maker:
-
Ice Maker:
-
Sailing Instructions:
-
Internet Access:
-
Hairdryers:
-
Guests Smokes:
-
Crew Smokes:
No
Pets Aboard:
No
Hammock:
-
Water Sports
Dinghy size:
-
Dinghy hp:
4.20m with 50 HP Highfield Oce
Water Skis Adult:
Yes
Water Skis Kids:
-
Jet Skis:
-
Kneeboard:
Yes
Windsurfer:
-
Snorkel Gear:
Yes
Tube:
-
Scurfer:
-
Wake Board:
Yes
Kayaks 1 Pax:
-
Kayaks (2 Pax):
-
Floating Mats:
-
Swim Platform:
-
Boarding Ladder (Loc/Type):
-
Sailing Dinghy:
-
Beach Games:
-
Fishing Gear:
Yes
Gear Type:
-
Rods:
-
Captain
Sylvain Lesniak
Nation: French
Born: 1986
Languages: French and English
Deckhand/Stewardess
Emilie Richard
Nation: French
CAPTAIN - Sylvain Lesniak– FRENCH – 32

PREVIOUS YACHTS :
Captain on Lagoon 450 and 42
Crew on Moon Beam 4
Captain of S/Y ATAO 25 m
First mate on S/Y ATAO 25 m
Captain of S/Y MANUA, Privilege 465
Crew on S/Y TRUE BLUE 51 feet
Crew on M/Y PRINTEMPS 34 m
Deckhand on S/Y MILENA 27m
Deckhand on M/Y TATIANA 45m
Captain on Bavaria 32
Racing experience : Participated in Régates Royales and Voiles de St Tropez on S/Y SAVANNAH 29 m and in Les Voiles d'Antibes on S/Y ELEONORA 50 m

EDUCATION, LICENCES AND CERTIFICATES:

ENG 1 – BST / STCW 2010
Yacht Master Ocean – GMDSS / CGO
First Rescue Formation - MEDICAL 3
Federal Sailing Instructor
Certificate of Professional Studies in mechanical engineering and computer integrated manufacturing

JOB DESCRIPTION :

Sylvain is responsible for navigation, safety, the overall running and financial management of the vessel, crew and guests. He ensures the safe and efficient operation of the yacht at all times, including compliance with all safety procedures and regulations. He takes care of adhering to flag regulations, port state and local laws and regulations, and manages the crew to ensure adherence to, and a full understanding of, the vessel's policies. He provides daily leadership for the crew and encourages teamwork, individual growth and personal attention by delegating duties and supervising all crew tasks.


LANGUAGES :
French and English

HOBBIES:
Fishing, scuba diving, free diving

Emilie Richard

Deckhand / Hostess FRENCH

Sail and work experience
Emilie began her career in the hotel industry, beginning when she was just 15 and spending 17 years working in hotels in France and Switzerland she is certainly no stranger to hospitality. With her sailing career she was thrown in at the deep end, escorting S/Y Latitude Ocean from France to Brazil. She was soon a captain in training and then skipper on her first boat for charter in 2017. More than 8,000 miles later she finds herself aboard ARAOK. She has experience working with all types of people, young or old, beginner or expert.

Job description
As Responsible for organization, management and cleanliness of all interiors. She maintains an accurate inventory of all service items and supplies. She ensures cleaning and preparation of the vessel to the highest standards prior to any and
all guest trips. In charge of vessel provisioning for both guests and crew, and all aspects of daily life. She offers particular attention to detail and a polite and entertaining spirit. Thanks to her sailing capability, she can assist on deck during navigation. She is responsible for the management of the deck as well as any watersports activities.

Education , Licenses & Certificates
• C2000 Sailing (2016)
• BPJEPS Nautical Activities (2015)
• CQP - AMV Sailing (2013)
• BEP - CAP Hotel and Catering (1998)
• Sports Studies - Triathlon

Benjamin Latorte

Chef / Host FRENCH

Sail and work experience
Benjamin started at the L'Epuisette restaurant in Marseille, then just an apprentice chef, however he was soon moving his way through a number of
restaurants and up the ranks as he went. He was a chef at the Highland Arms restaurant in Tasmania before taking to the seas in 2014. He then completed four transatlantic crossings aboard S/Y ATAO. Following a brief stint as head chef at a Swiss hotel he is now working on ARAOK. Along the way Benjamin picked up over three years of bartending experience at bars in Europe and the French Caribbean. He is a passionate gastronomist,
botanist and sportsman. He is fluent in English and French.

Job description
As the Chef/Host Benjamin is responsible for the crew and guest meals throughout the charter, ensuring that the food is enjoyable, the interior of the yacht is clean and serviceable and that all dietary requirements are met. He is a creative cook, varying his meals to provide variety and according to the location of ARAOK in order to have as much relevance as possible to the country being visited.

Education , Licenses & Certificates
• STCW 95 – Marseille (2016)
• BEP specific to catering and hospitality, done in tandem with work at Bonneveine, Marseille

Rates are
What is included in a All Inclusive Charter? What Is NOT Included?
Unless otherwise specified-Caribbean Standard All-Inclusive Charters include the following:
Standard check-in/check-out of 12pm
Light daily housekeeping
Breakfast, lunch, canapés/afternoon tea, dinner and snacks
Standard ship's bar: vodka, gin, rum, whiskey, tequila, triple sec, mixers, local beers, table wine and water/coffee/tea and soft drinks
Stereo with MP3/iPhone connection with indoor/outdoor speakers; 3G/4G Wi-Fi access point
Snorkeling equipment, fishing gear, kayaks, dingy tender with outboard motors
Water toys such as floating islands, and air mattresses
Separate bathroom and living quarters for crew
Reputable and licensed crew who have local knowledge of waters and are able to adjust menus based on guest's preferences and dietary restrictions
Operating expenses including: air conditioning, fuel, water, sailing permits/taxes, local taxes and crew wages
What Is Not Included in Standard All-Inclusive Charters:
Gratuity for crew. Gratuity is at guest discretion and is typically between 15-20%
Meals and beverages at restaurants and bars
Rendezvous diving, ASA sailing certification courses and any other offshore excursions
Premium wines and spirits
: Cat
: 8.88 Metres
: 1.4 Metres
: 6
: 2018
: FOUNTAINE PAJOT
: 8
: 10
: Yacht offers Rendezvous Diving only
: Sylvain Lesniak
: French
: Yes
Accommodations
Cabins:
3
Queen:
2
Single Cabins:
1
Showers:
3
Wash Basins:
-
Heads:
-
Electric Heads:
-
Engine Details
-
Fuel Consumption:
20
Cruising Speed:
8
Max Speed:
10US Gall/Hr
Details
Refit:
-
Helipad:
No
Jacuzzi:
No
A/C:
Full
Locations
Winter Area:
W. Med -Riviera/Cors/Sard.
Summer Area:
W. Med -Naples/Sicily, W. Med -Riviera/Cors/Sard., W. Med - Spain/Balearics
Pick Up Locations
Pref. Pick-up:
-
Other Pick-up:
-
Amenities
Salon Tv/VCR:
Yes
Salon Stereo:
Yes
Sat Tv:
-
# of Videos:
-
# DVDs/Movies:
-
# CD's:
-
Camcorder:
-
Books:
-
Board Games:
-
Sun Awning:
-
Deck Shower:
-
Bimini:
-
Water Maker:
-
Special Diets:
Inq
Kosher:
Inq
BBQ:
-
# Dine In:
-
Minimum Age:
-
Generator:
-
Inverter:
-
Voltages:
-
Water Maker:
-
Water Cap:
-
Ice Maker:
-
Sailing Instructions:
-
Internet Access:
-
Gay Charters:
Inq
Nude:
Inq
Hairdryers:
-
# Port Hatches:
-
Guests Smokes:
-
Crew Smokes:
No
Pets Aboard:
No
Pet Type:
-
Guest Pets:
-
Children Ok:
-
Hammock:
-
Windscoops:
-
Water Sports
Dinghy size:
-
Dinghy hp:
4.20m with 50 HP Highfield Oce
Dinghy # pax:
-
Water Skis Adult:
Yes
Water Skis Kids:
-
Jet Skis:
-
Wave Runners:
-
Kneeboard:
Yes
Windsurfer:
-
Snorkel Gear:
Yes
Tube:
-
Scurfer:
-
Wake Board:
Yes
Kayaks 1 Pax:
-
Kayaks (2 Pax):
-
Floating Mats:
-
Swim Platform:
-
Boarding Ladder (Loc/Type):
-
Sailing Dinghy:
-
Beach Games:
-
Fishing Gear:
Yes
Gear Type:
-
Rods:
-
Captain
Sylvain Lesniak
Nation: French
Born: 1986
Languages: French and English
Deckhand/Stewardess
Emilie Richard
Nation: French
CAPTAIN - Sylvain Lesniak– FRENCH – 32

PREVIOUS YACHTS :
Captain on Lagoon 450 and 42
Crew on Moon Beam 4
Captain of S/Y ATAO 25 m
First mate on S/Y ATAO 25 m
Captain of S/Y MANUA, Privilege 465
Crew on S/Y TRUE BLUE 51 feet
Crew on M/Y PRINTEMPS 34 m
Deckhand on S/Y MILENA 27m
Deckhand on M/Y TATIANA 45m
Captain on Bavaria 32
Racing experience : Participated in Régates Royales and Voiles de St Tropez on S/Y SAVANNAH 29 m and in Les Voiles d'Antibes on S/Y ELEONORA 50 m

EDUCATION, LICENCES AND CERTIFICATES:

ENG 1 – BST / STCW 2010
Yacht Master Ocean – GMDSS / CGO
First Rescue Formation - MEDICAL 3
Federal Sailing Instructor
Certificate of Professional Studies in mechanical engineering and computer integrated manufacturing

JOB DESCRIPTION :

Sylvain is responsible for navigation, safety, the overall running and financial management of the vessel, crew and guests. He ensures the safe and efficient operation of the yacht at all times, including compliance with all safety procedures and regulations. He takes care of adhering to flag regulations, port state and local laws and regulations, and manages the crew to ensure adherence to, and a full understanding of, the vessel's policies. He provides daily leadership for the crew and encourages teamwork, individual growth and personal attention by delegating duties and supervising all crew tasks.


LANGUAGES :
French and English

HOBBIES:
Fishing, scuba diving, free diving

Emilie Richard

Deckhand / Hostess FRENCH

Sail and work experience
Emilie began her career in the hotel industry, beginning when she was just 15 and spending 17 years working in hotels in France and Switzerland she is certainly no stranger to hospitality. With her sailing career she was thrown in at the deep end, escorting S/Y Latitude Ocean from France to Brazil. She was soon a captain in training and then skipper on her first boat for charter in 2017. More than 8,000 miles later she finds herself aboard ARAOK. She has experience working with all types of people, young or old, beginner or expert.

Job description
As Responsible for organization, management and cleanliness of all interiors. She maintains an accurate inventory of all service items and supplies. She ensures cleaning and preparation of the vessel to the highest standards prior to any and
all guest trips. In charge of vessel provisioning for both guests and crew, and all aspects of daily life. She offers particular attention to detail and a polite and entertaining spirit. Thanks to her sailing capability, she can assist on deck during navigation. She is responsible for the management of the deck as well as any watersports activities.

Education , Licenses & Certificates
• C2000 Sailing (2016)
• BPJEPS Nautical Activities (2015)
• CQP - AMV Sailing (2013)
• BEP - CAP Hotel and Catering (1998)
• Sports Studies - Triathlon

Benjamin Latorte

Chef / Host FRENCH

Sail and work experience
Benjamin started at the L'Epuisette restaurant in Marseille, then just an apprentice chef, however he was soon moving his way through a number of
restaurants and up the ranks as he went. He was a chef at the Highland Arms restaurant in Tasmania before taking to the seas in 2014. He then completed four transatlantic crossings aboard S/Y ATAO. Following a brief stint as head chef at a Swiss hotel he is now working on ARAOK. Along the way Benjamin picked up over three years of bartending experience at bars in Europe and the French Caribbean. He is a passionate gastronomist,
botanist and sportsman. He is fluent in English and French.

Job description
As the Chef/Host Benjamin is responsible for the crew and guest meals throughout the charter, ensuring that the food is enjoyable, the interior of the yacht is clean and serviceable and that all dietary requirements are met. He is a creative cook, varying his meals to provide variety and according to the location of ARAOK in order to have as much relevance as possible to the country being visited.

Education , Licenses & Certificates
• STCW 95 – Marseille (2016)
• BEP specific to catering and hospitality, done in tandem with work at Bonneveine, Marseille

Rates are
What is included in a All Inclusive Charter? What Is NOT Included?
Unless otherwise specified-Caribbean Standard All-Inclusive Charters include the following:
Standard check-in/check-out of 12pm
Light daily housekeeping
Breakfast, lunch, canapés/afternoon tea, dinner and snacks
Standard ship's bar: vodka, gin, rum, whiskey, tequila, triple sec, mixers, local beers, table wine and water/coffee/tea and soft drinks
Stereo with MP3/iPhone connection with indoor/outdoor speakers; 3G/4G Wi-Fi access point
Snorkeling equipment, fishing gear, kayaks, dingy tender with outboard motors
Water toys such as floating islands, and air mattresses
Separate bathroom and living quarters for crew
Reputable and licensed crew who have local knowledge of waters and are able to adjust menus based on guest's preferences and dietary restrictions
Operating expenses including: air conditioning, fuel, water, sailing permits/taxes, local taxes and crew wages
What Is Not Included in Standard All-Inclusive Charters:
Gratuity for crew. Gratuity is at guest discretion and is typically between 15-20%
Meals and beverages at restaurants and bars
Rendezvous diving, ASA sailing certification courses and any other offshore excursions
Premium wines and spirits