GALAXY
€7,075 - €11,380 / WEEK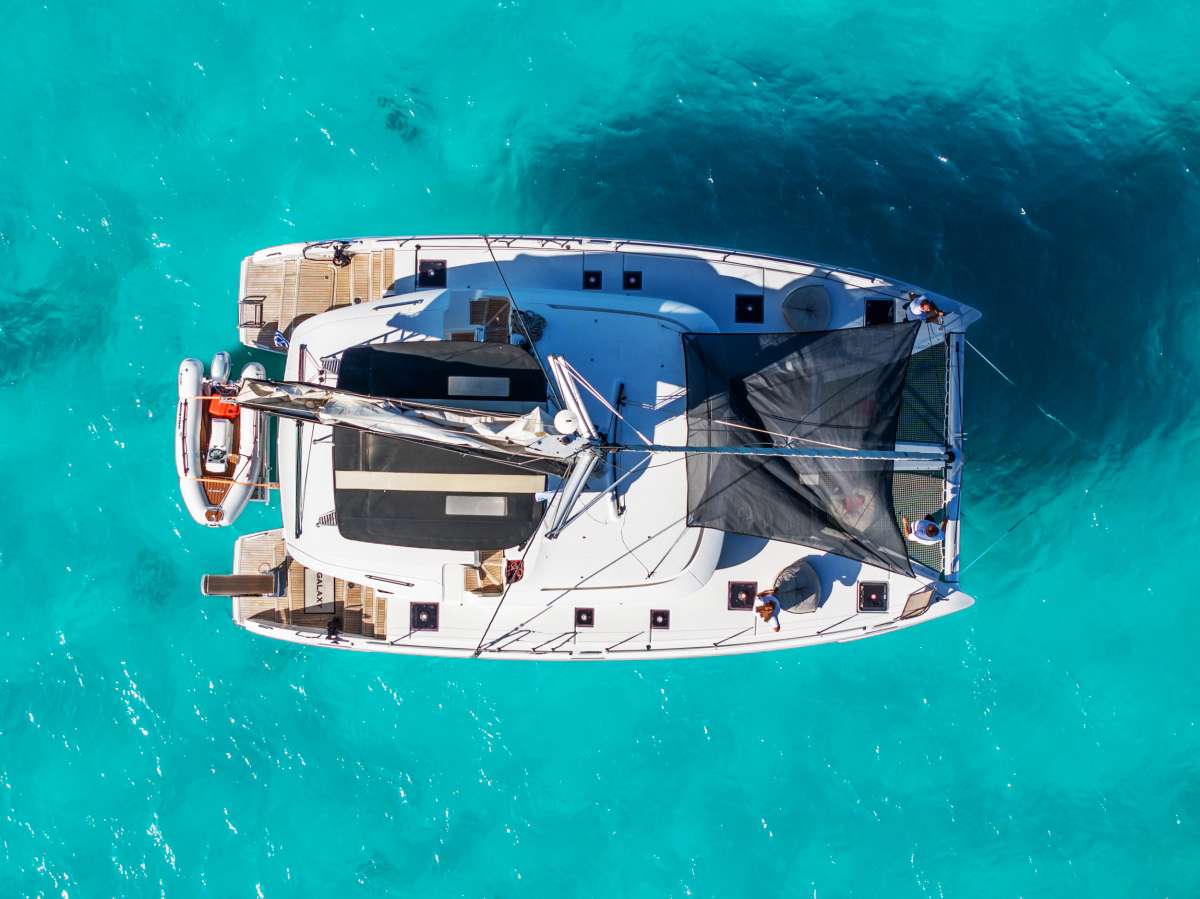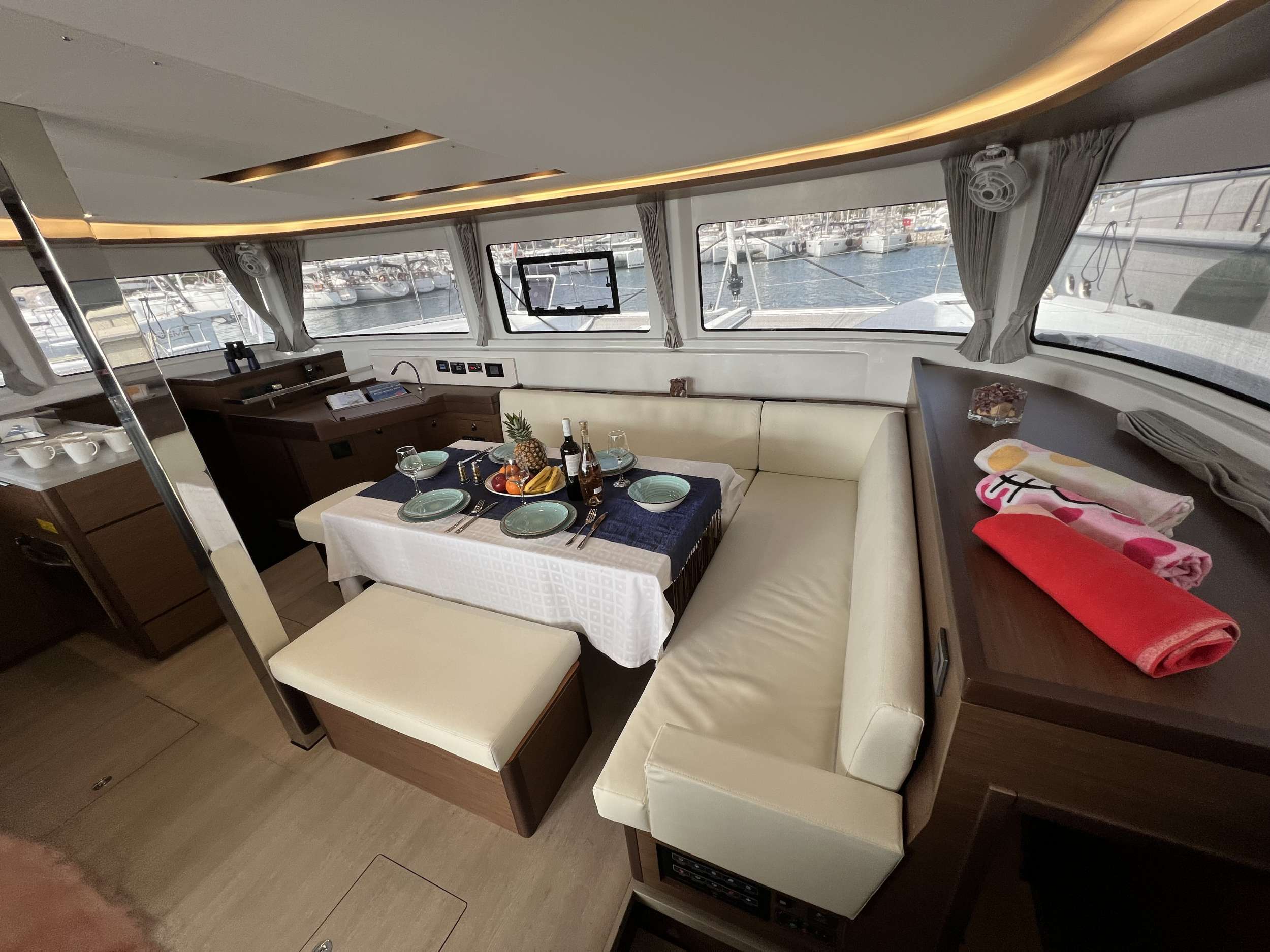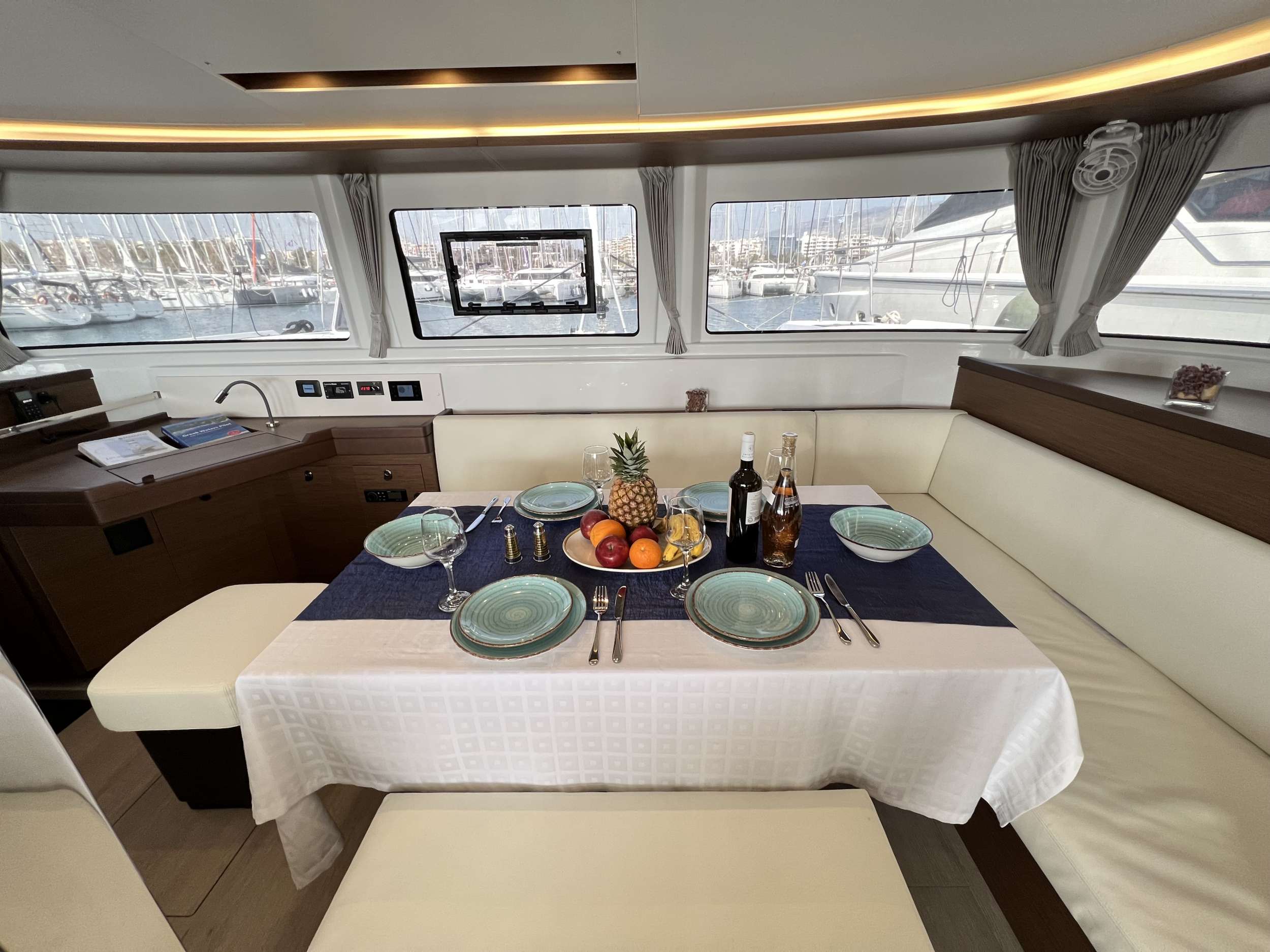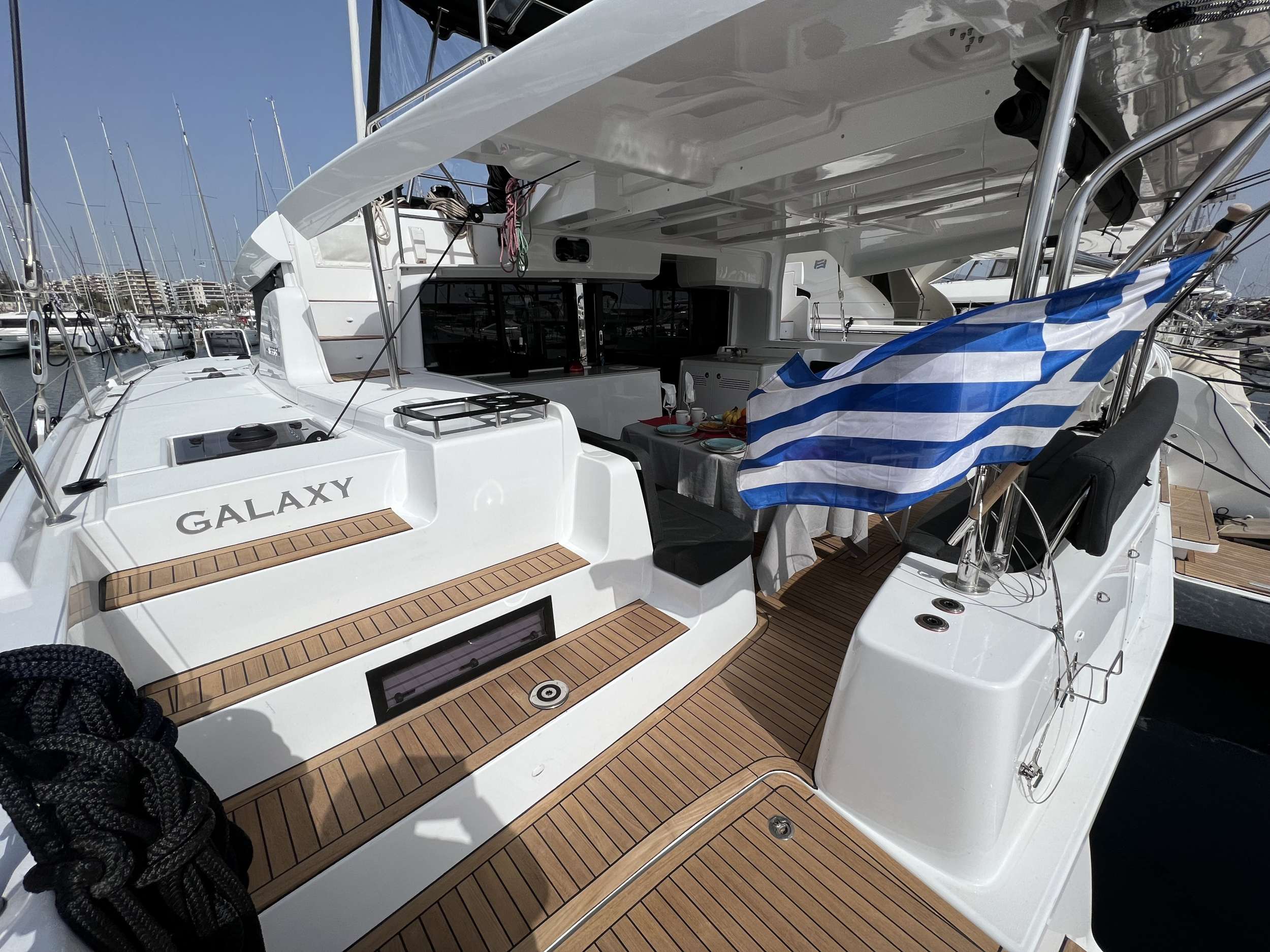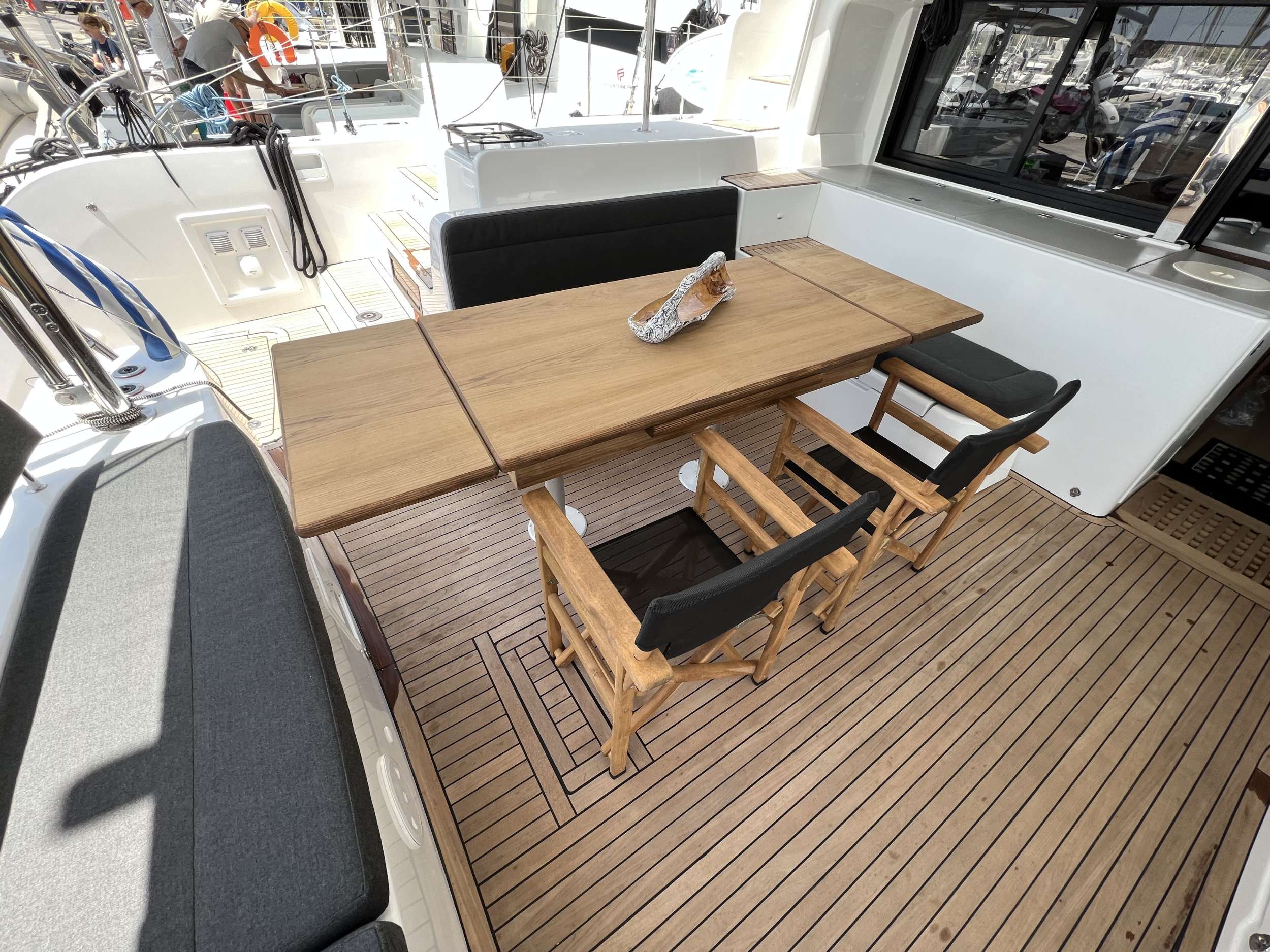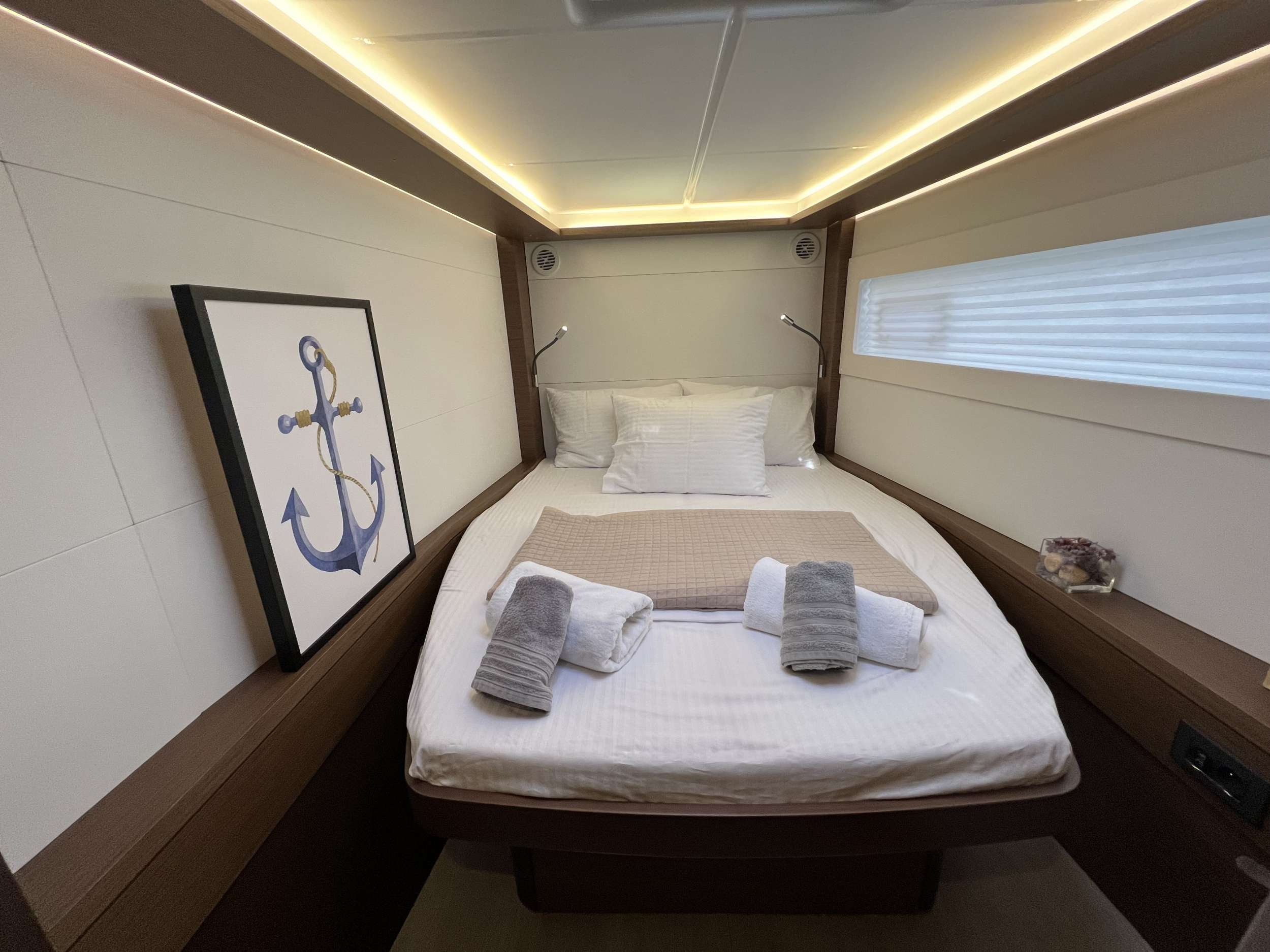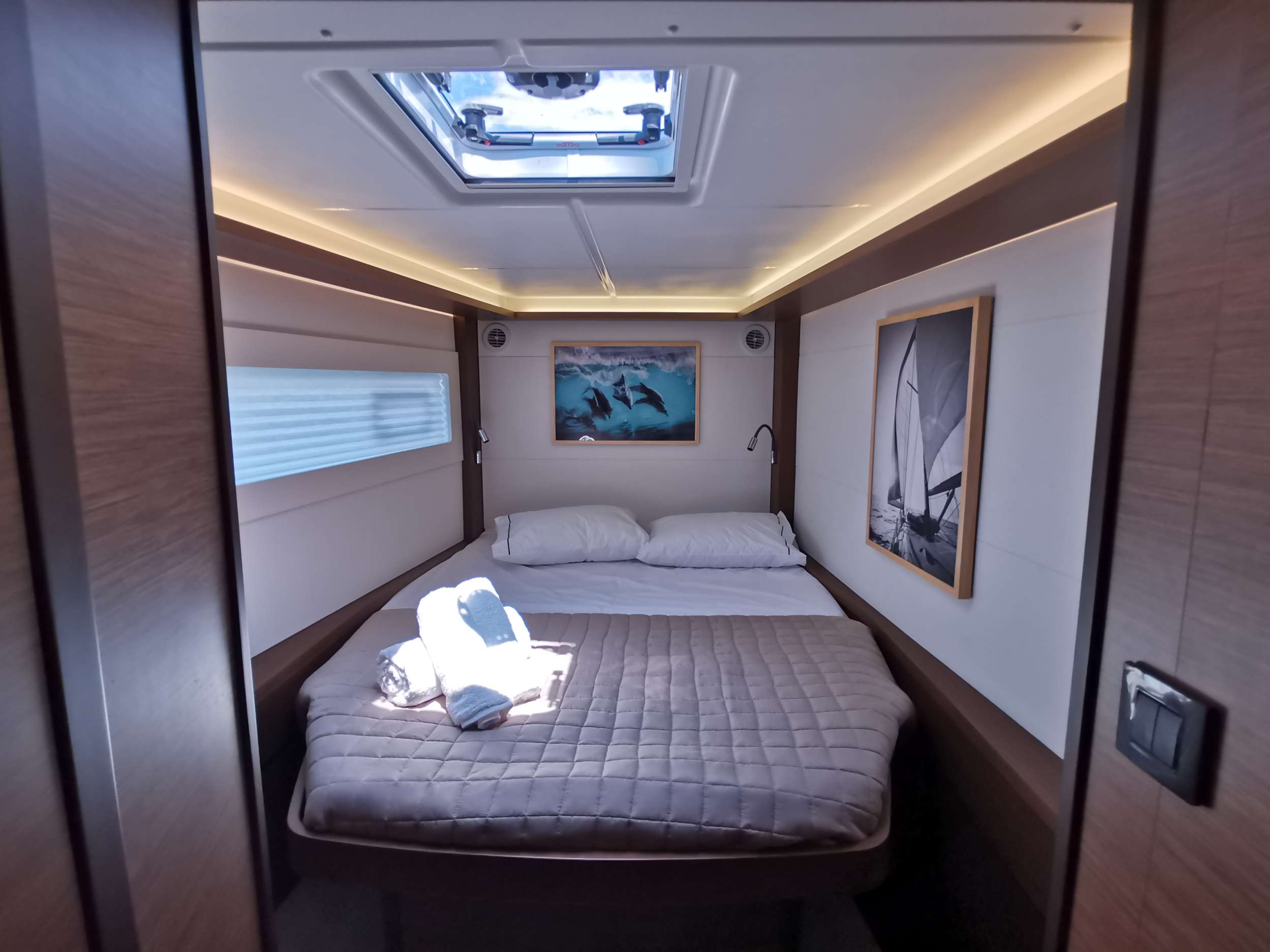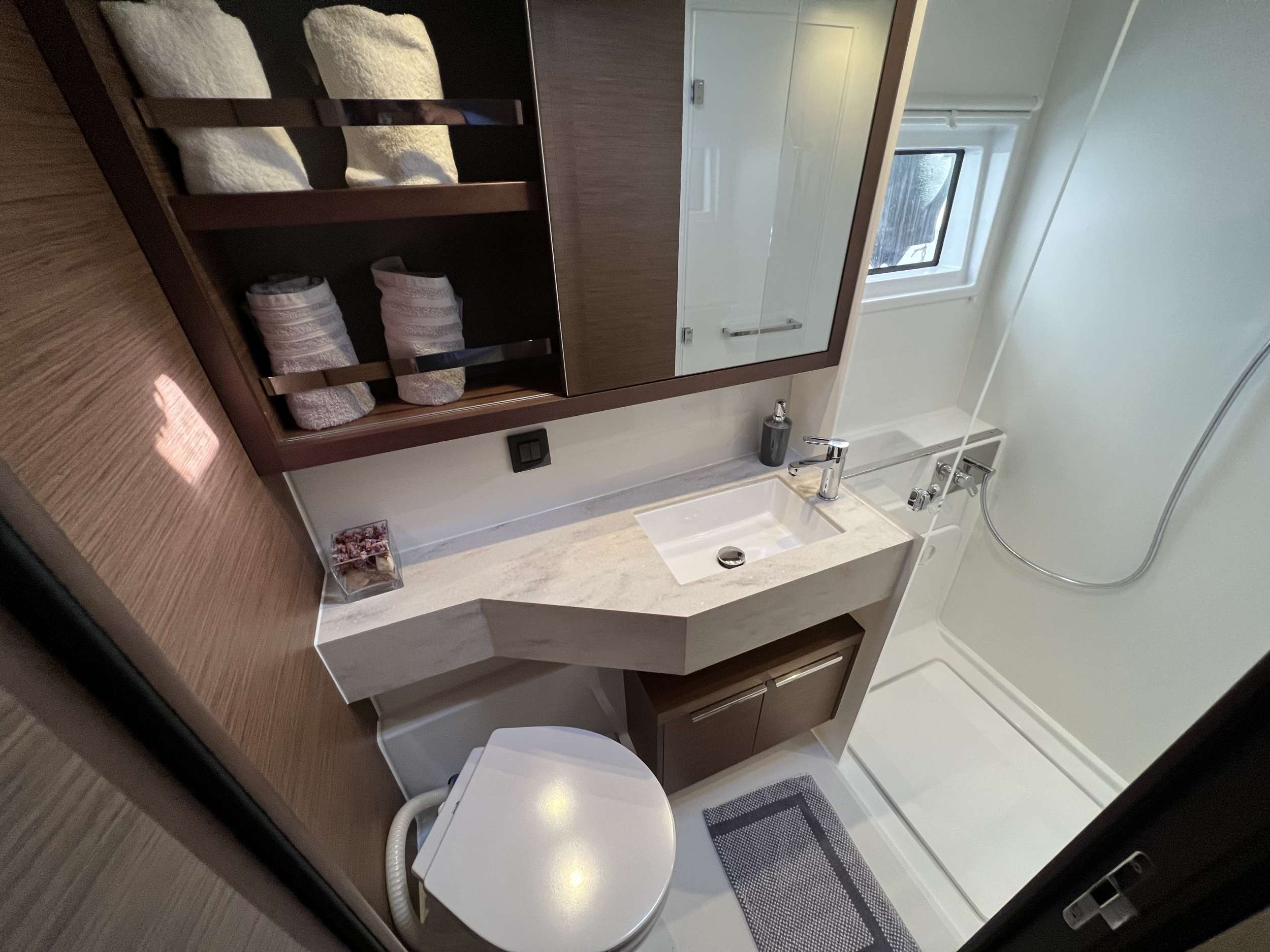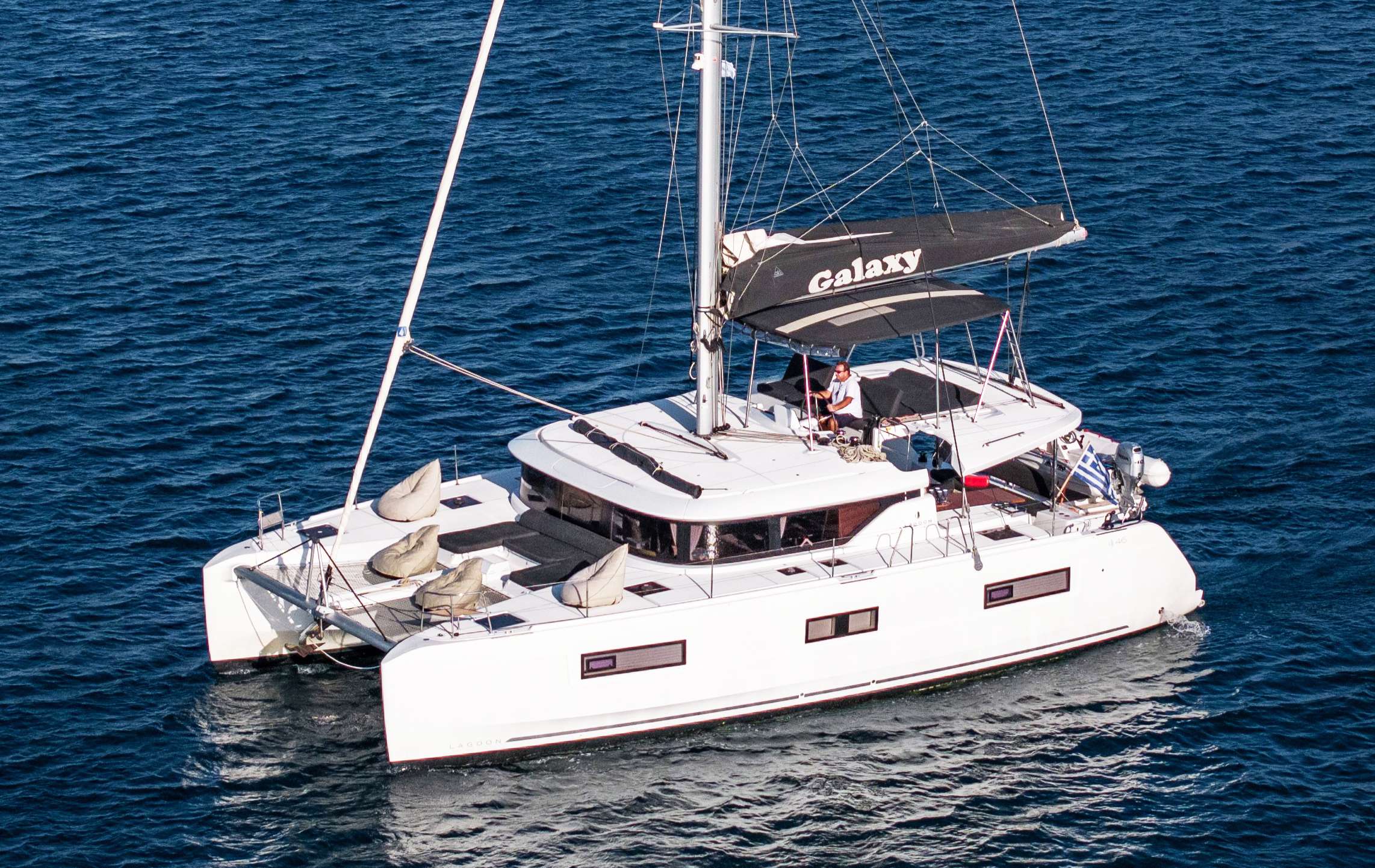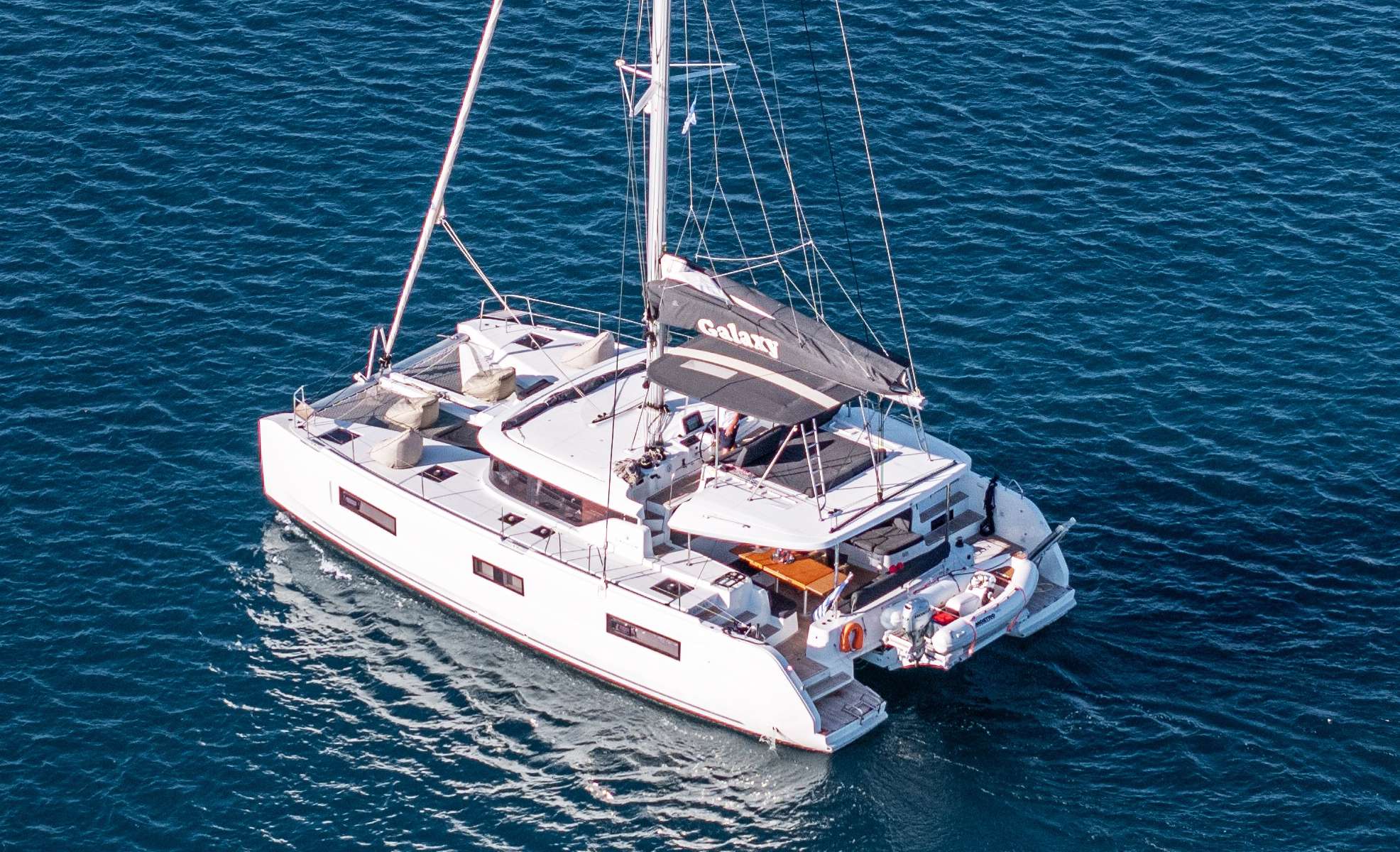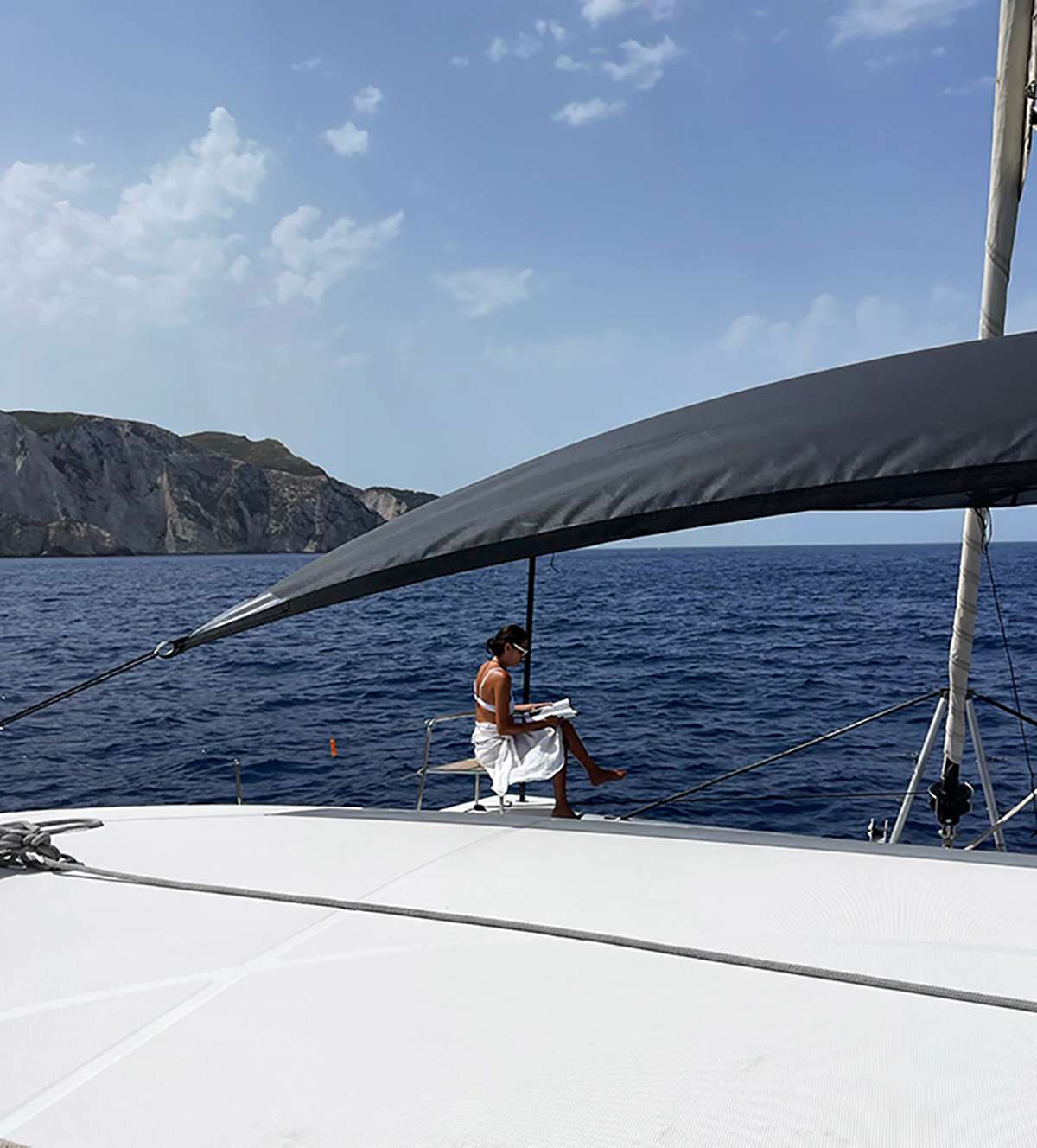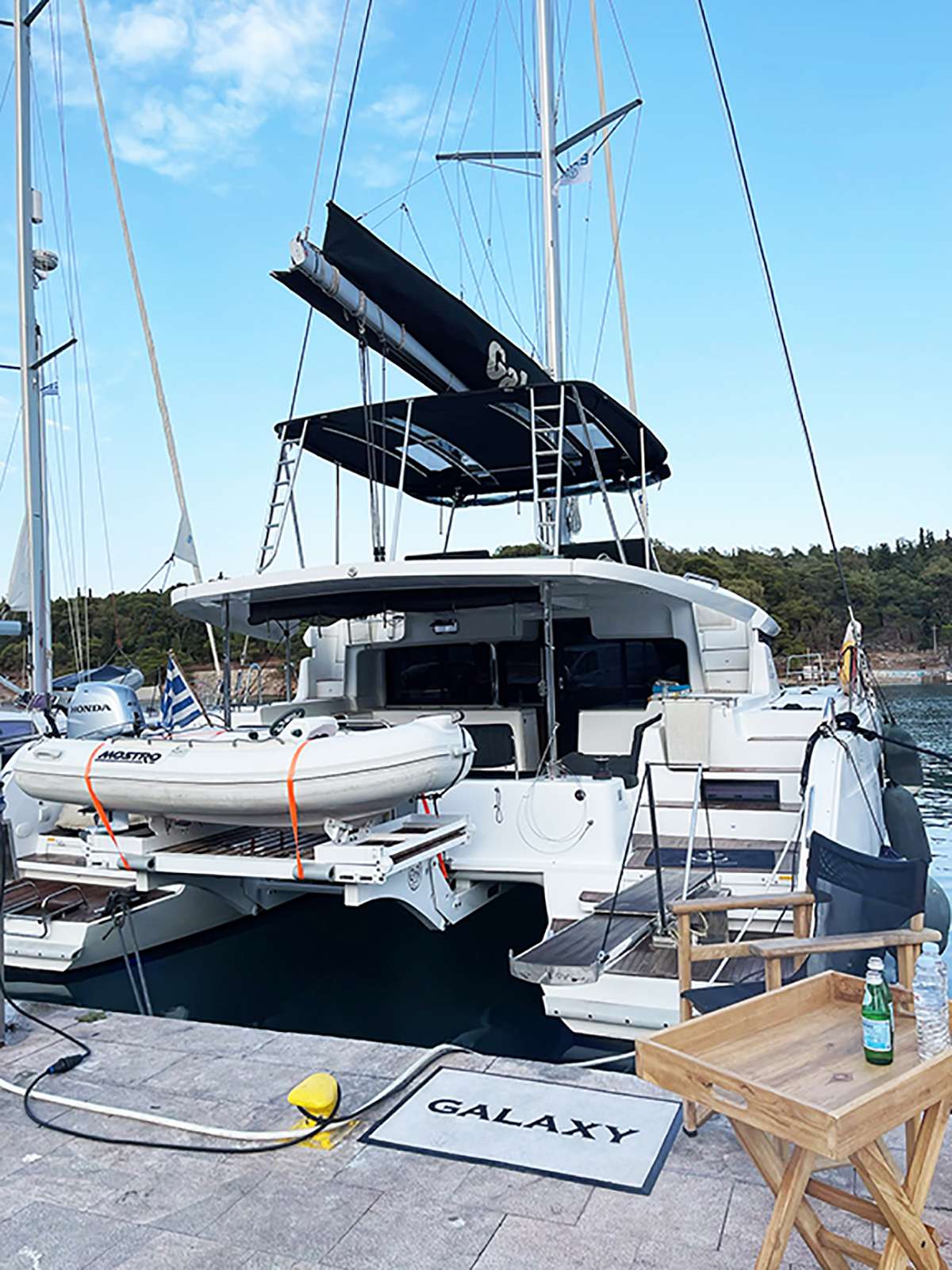 Lagoon 46 Galaxy has 4 double cabins with 4 wc(electric)
2 skipper cabins on bow with 1 w/c on one of them
Accommodations
Cabins:
6
Queen:
2
Single Cabins:
1
Showers:
4
Electric Heads:
4
Engine Details
2 x 57hp Yanmar Generator Onan 11 Kw
Fuel Consumption:
-
Cruising Speed:
-
Max Speed:
-
Details
Type:
Cat
Beam:
7.96 Feet
Draft:
2.10 Feet
Pax:
8
YearBuilt:
2022
Builder:
Lagoon
Engines:
2 x 57hp Yanmar Generator Onan 11 Kw
JetSkis:
No
Flag:
Greek
Jacuzzi:
No
A/C:
Full
Locations
Winter Area:
Greece
Summer Area:
Greece
Pick Up Locations
Pref. Pick-up:
-
Other Pick-up:
-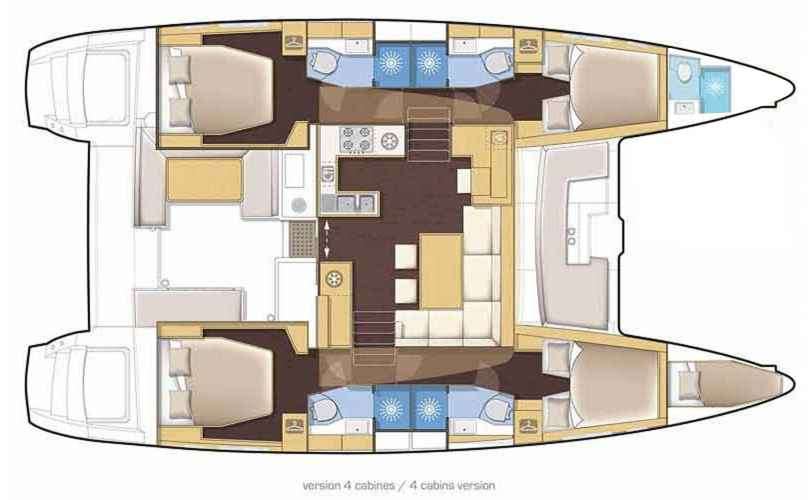 Amenities
Salon Tv/VCR:
No
Salon Stereo:
Yes
Sat Tv:
Wi-Fi available for up to 5 devices (extra charge)
GPS
Plotter
Autopliot
Depthsounder


Camcorder:
-
Books:
-
Board Games:
-
Deck Shower:
-
Water Maker:
120lt/hour
Special Diets:
Inq
Kosher:
Yes
BBQ:
-
Minimum Age:
-
Inverter:
YES
Voltages:
220 V
Water Maker:
120lt/hour
Ice Maker:
No
Sailing Instructions:
-
Internet Access:
None-Hot Spots
Hairdryers:
No
Guests Smokes:
-
Crew Smokes:
No
Pets Aboard:
No
Hammock:
-
Water Sports
Dinghy size:
Tender 3,20m
Dinghy hp:
40hp Yamaha
Water Skis Adult:
No
Water Skis Kids:
No
Jet Skis:
No
Kneeboard:
No
Windsurfer:
-
Snorkel Gear:
Yes
Tube:
No
Scurfer:
-
Wake Board:
No
Kayaks 1 Pax:
-
Kayaks (2 Pax):
-
Floating Mats:
-
Swim Platform:
-
Boarding Ladder (Loc/Type):
-
Sailing Dinghy:
-
Beach Games:
-
Fishing Gear:
No
Gear Type:
-
Rods:
-
Captain
Marios Lampouridis
Nation: Greek
Born: 1994
License: RYA - Yachtmaster
Languages: English, Greek
Years Sailing: 1978
Born: 1
Years Sailing: 1990
Charter Reviews for Galaxy Lagoon 46
The boat is very well maintainced and the crew was wonderfull!!! Alison Period May, 2023 Duration 7 Days Customer Type Family Customer Age 18-60 years Travel Type Vacation/Leisure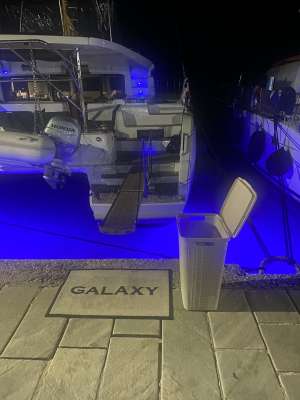 Charter Reviews for Galaxy Lagoon 46
It was a great trip! Beautiful Greek Islands, blue sky and amazing view. Clear water, and great mood. You were unbelievable crew. Always there for us. We had a great time, enjoying the best vacation. Thank you all, hope to come back soon! Roy Period June, 2023 Duration 14 Days Customer Type Friends Customer Age 30-56 years Travel Type Vacation/Leisure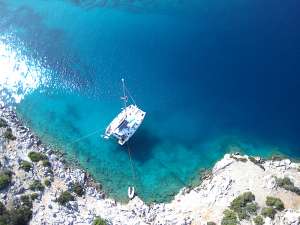 Charter Reviews for Galaxy Lagoon 46
"Our week on Catamaran 'Galaxy' was truly exceptional. The crew's professionalism and warmth made our first-time sailing experience memorable. A perfect blend of luxury and adventure on the high seas." --Cody Period July, 2023 Duration 7 Days Customer Type Friends Customer Age 30-56 years Travel Type Vacation/Leisure
Rates are Plus Expenses
What is included in a All Inclusive Charter? What Is NOT Included?
Unless otherwise specified-Caribbean Standard All-Inclusive Charters include the following:
Standard check-in/check-out of 12pm
Light daily housekeeping
Breakfast, lunch, canapés/afternoon tea, dinner and snacks
Standard ship's bar: vodka, gin, rum, whiskey, tequila, triple sec, mixers, local beers, table wine and water/coffee/tea and soft drinks
Stereo with MP3/iPhone connection with indoor/outdoor speakers; 3G/4G Wi-Fi access point
Snorkeling equipment, fishing gear, kayaks, dingy tender with outboard motors
Water toys such as floating islands, and air mattresses
Separate bathroom and living quarters for crew
Reputable and licensed crew who have local knowledge of waters and are able to adjust menus based on guest's preferences and dietary restrictions
Operating expenses including: use of air conditioning, fuel, water, sailing permits/taxes, local taxes and crew wages
What Is Not Included in Standard All-Inclusive Charters:
Gratuity for crew. Gratuity is at guest discretion and is typically between 15-20%
Meals and beverages at restaurants and bars
Rendezvous diving, ASA sailing certification courses and any other offshore excursions
Premium wines and spirits
The yacht price includes only the boat and her equipment.

Obligatory Extras :
Skipper is obligatory extra 1330€ /week cash upon embarkation (his daily food is extra)
End cleaning 300 per booking cash upon embarkation
Non refundable security deposit : 300€/booking
Refundable security deposit : 1.000€ via credit card.

*The hostess is optional extra 1190€/week cash upon embarkation

Yacht Prices per week:


30/03-20/04/2024 : 4.725€
20/04-18/05/2024 : 6.435€
18/05-15/06/2024 : 7.875€
15/06-27/07/2024 : 9.540€
27/07-17/08/2024 : 11.250€
17/08-14/09/2024 : 9.540€
14/09-28/09/2024 : 7.875€
28/09-12/10/2023 : 6.435€
12/10-31/12/2024 : 4.725€

*VAT is included in the price

APA OPTIONAL
: Cat
: 7.96 Feet
: 2.10 Feet
: 8
: 2022
: Lagoon
: 2 x 57hp Yanmar Generator Onan 11 Kw
: No
: No
: Yacht offers Rendezvous Diving only
: Marios Lampouridis
: Greek
Accommodations
Cabins:
6
Queen:
2
Single Cabins:
1
Showers:
4
Wash Basins:
-
Heads:
4
Electric Heads:
4
Engine Details
2 x 57hp Yanmar Generator Onan 11 Kw
Fuel Consumption:
-
Cruising Speed:
-
Max Speed:
-
Details
Refit:
-
Helipad:
No
Jacuzzi:
No
A/C:
Full
Locations
Winter Area:
Greece
Summer Area:
Greece
Pick Up Locations
Pref. Pick-up:
-
Other Pick-up:
-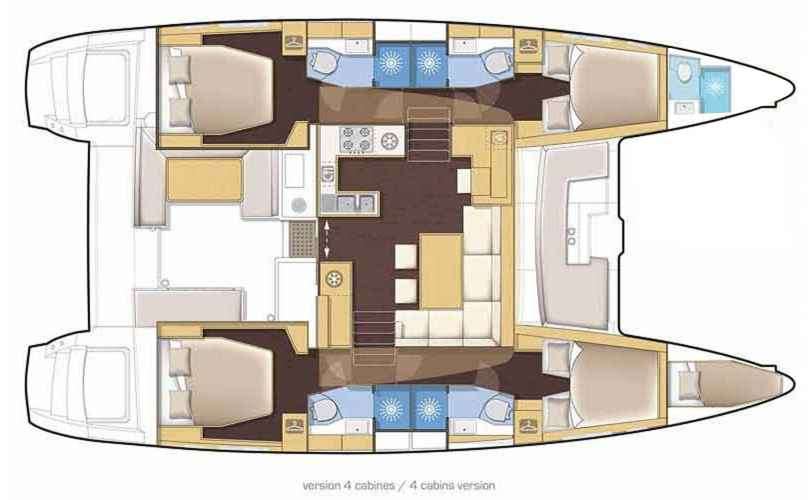 Amenities
Salon Tv/VCR:
No
Salon Stereo:
Yes
Sat Tv:
Wi-Fi available for up to 5 devices (extra charge)
GPS
Plotter
Autopliot
Depthsounder


# of Videos:
-
# DVDs/Movies:
-
# CD's:
-
Camcorder:
-
Books:
-
Board Games:
-
Sun Awning:
-
Deck Shower:
-
Bimini:
-
Water Maker:
120lt/hour
Special Diets:
Inq
Kosher:
Yes
BBQ:
-
# Dine In:
-
Minimum Age:
-
Generator:
Onan 11 Kw
Inverter:
YES
Voltages:
220 V
Water Maker:
120lt/hour
Water Cap:
600
Ice Maker:
No
Sailing Instructions:
-
Internet Access:
None-Hot Spots
Gay Charters:
Yes
Nude:
Yes
Hairdryers:
No
# Port Hatches:
-
Guests Smokes:
-
Crew Smokes:
No
Pets Aboard:
No
Pet Type:
-
Guest Pets:
No
Children Ok:
Yes
Hammock:
-
Windscoops:
-
Water Sports
Dinghy size:
Tender 3,20m
Dinghy hp:
40hp Yamaha
Dinghy # pax:
-
Water Skis Adult:
No
Water Skis Kids:
No
Jet Skis:
No
Wave Runners:
-
Kneeboard:
No
Windsurfer:
-
Snorkel Gear:
Yes
Tube:
No
Scurfer:
-
Wake Board:
No
Kayaks 1 Pax:
-
Kayaks (2 Pax):
-
Floating Mats:
-
Swim Platform:
-
Boarding Ladder (Loc/Type):
-
Sailing Dinghy:
-
Beach Games:
-
Fishing Gear:
No
Gear Type:
-
Rods:
-
Captain
Marios Lampouridis
Nation: Greek
Born: 1994
License: RYA - Yachtmaster
Languages: English, Greek
Years Sailing: 1978
Born: 1
Years Sailing: 1990
Breakfast:
Milk, Coffee (Greek coffee, instant coffee, filter coffee)
Tea, Greek fresh
Butter, Greek Honey Jam, Marmalade, Fresh Orange juice
Variety of fruits, Stewed Fruit,
Yoghurt, Bread, Toaster, Biscuit, Cake, Croissant, Sausage
Eggs, Sliced Hum/Beacon, Sliced Cheese, Corn Flakes

Salads:
Greek Salad (tomatoes, cucumber, Feta cheese, onions, olives, green papers)
Salad (boiled potatoes, green beans, boiled egg, mayonnaise)
Salad (pasta and ham and bacon mixed in yogurt)
Salad with beetroot
''Ntakos'' traditional Salad with Cretan rusk, mizithra (fresh cheese made with milk and whey from sheep and/or goats) and caper

Appetizers:
Taramosalata (roe dip) eggplant salad, Tzatziki, Potatoes, Saganaki
(crumbed fried kefalotyri cheese),Cheese (kefalograviera, manouri)

Main dishes:
Stuffed fresh tomatoes & peppers with rice, and potatoes
Meatballs in fresh tomato sauce with herbs and aromatic rice
Linguine with shrimps, fresh tomato and hot peppers
Chicken with sour cream and fresh peppers
Gnocchi with creamy gorgonzola sauce
Risotto with fresh mushrooms and saffron
Burger with fried potatoes
Fresh boiled vegetables

Desserts:
Yogurt with honey and nuts
Strawberries with fresh cream or cream caramel
Greek chalvas
Galaktompoureko
Fruit in Season
Ice-cream
Coffee

We can also prepare for you a variety of dishes according to your preference. This is only an indicative list to which you have the flexibility to choose and combine whatever you would like to taste.

Charter Reviews for Galaxy Lagoon 46
The boat is very well maintainced and the crew was wonderfull!!! Alison Period May, 2023 Duration 7 Days Customer Type Family Customer Age 18-60 years Travel Type Vacation/Leisure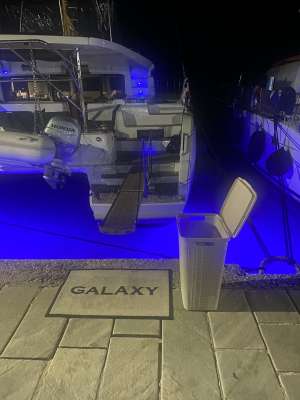 Charter Reviews for Galaxy Lagoon 46
It was a great trip! Beautiful Greek Islands, blue sky and amazing view. Clear water, and great mood. You were unbelievable crew. Always there for us. We had a great time, enjoying the best vacation. Thank you all, hope to come back soon! Roy Period June, 2023 Duration 14 Days Customer Type Friends Customer Age 30-56 years Travel Type Vacation/Leisure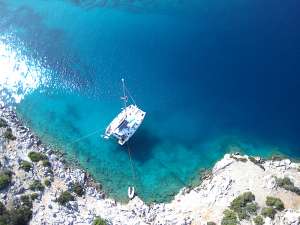 Charter Reviews for Galaxy Lagoon 46
"Our week on Catamaran 'Galaxy' was truly exceptional. The crew's professionalism and warmth made our first-time sailing experience memorable. A perfect blend of luxury and adventure on the high seas." --Cody Period July, 2023 Duration 7 Days Customer Type Friends Customer Age 30-56 years Travel Type Vacation/Leisure
Rates are Plus Expenses
What is included in a All Inclusive Charter? What Is NOT Included?
Unless otherwise specified-Caribbean Standard All-Inclusive Charters include the following:
Standard check-in/check-out of 12pm
Light daily housekeeping
Breakfast, lunch, canapés/afternoon tea, dinner and snacks
Standard ship's bar: vodka, gin, rum, whiskey, tequila, triple sec, mixers, local beers, table wine and water/coffee/tea and soft drinks
Stereo with MP3/iPhone connection with indoor/outdoor speakers; 3G/4G Wi-Fi access point
Snorkeling equipment, fishing gear, kayaks, dingy tender with outboard motors
Water toys such as floating islands, and air mattresses
Separate bathroom and living quarters for crew
Reputable and licensed crew who have local knowledge of waters and are able to adjust menus based on guest's preferences and dietary restrictions
Operating expenses including: use of air conditioning, fuel, water, sailing permits/taxes, local taxes and crew wages
What Is Not Included in Standard All-Inclusive Charters:
Gratuity for crew. Gratuity is at guest discretion and is typically between 15-20%
Meals and beverages at restaurants and bars
Rendezvous diving, ASA sailing certification courses and any other offshore excursions
Premium wines and spirits
The yacht price includes only the boat and her equipment.

Obligatory Extras :
Skipper is obligatory extra 1330€ /week cash upon embarkation (his daily food is extra)
End cleaning 300 per booking cash upon embarkation
Non refundable security deposit : 300€/booking
Refundable security deposit : 1.000€ via credit card.

*The hostess is optional extra 1190€/week cash upon embarkation

Yacht Prices per week:


30/03-20/04/2024 : 4.725€
20/04-18/05/2024 : 6.435€
18/05-15/06/2024 : 7.875€
15/06-27/07/2024 : 9.540€
27/07-17/08/2024 : 11.250€
17/08-14/09/2024 : 9.540€
14/09-28/09/2024 : 7.875€
28/09-12/10/2023 : 6.435€
12/10-31/12/2024 : 4.725€

*VAT is included in the price

APA OPTIONAL